How do you solve a problem like science careers? On Tuesday 24th May 2011, Dr Evan Harris chaired a panel discussion on careers in science at the Royal Institution. On the panel were Dr Jenny Rohn and Professor Dame Athene Donald, FRS, and they were joined by Rt Hon David Willetts MP, Minister of State for Universities and Science. About fifty people joined in the discussion in person, with questions and comments on twitter under the #scicareers hashtag.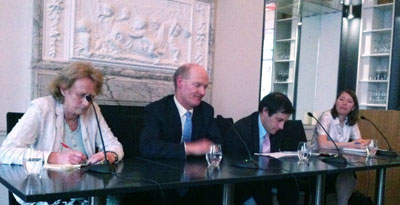 Science is Vital is not leaving the matter there, though: we want to maintain pressure on the government to consider not just science funding but the very real problems that exist in science careers. First up, the Minister asked Science is Vital to draft a document which we could deliver to his office summarizing the points raised at the Ri, which we can use for the basis of future discussions.
To do this we need your help. Please tell us about your own concerns (and potential solutions!) about science as a career in this country, either in the comments below or (if you want to make your comments confidentially) by email to jenny 'at' scienceisvital.org.uk.
UPDATE Check out the Pod Delusion podcast.
Categories:

Careers, Evidence