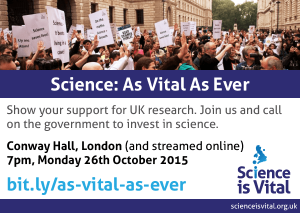 On October 26th, we're calling on supporters of science around the UK to make their voices heard. We urgently need to make the case for science before the Government finalises its Comprehensive Spending Review in November.
To rally the troops, we are holding an action-packed, inspirational event at Conway Hall in London to celebrate UK research and to warn of the dangers of continued disinvestment. It will be an evening of talks and calls to arms to protest against the very real threat of cuts to UK research funding.
Confirmed speakers so far include Jim Al-Khalili, Uta Frith FRS, Simon Singh, Lucie Green, Julian Huppert, Naomi Weir (CaSE), Mark Miodownik, Sue Duncombe, Helen Arney, Greg Foot, James Wilsdon and Adam Rutherford – see below for details. The event will be compered by the incomparable Matt Parker.
Come along (with a white coat if you have one) and hear top scientists, broadcasters, entertainers, economists, and friends and beneficiaries of science make the case for UK research.
Speaker details:
Jim Al-Khalili OBE
Jim is a theoretical physicist, author and broadcaster. He is professor of theoretical physics and public engagement at Surrey University and presents the popular BBC Radio 4 programme The Life Scientific.
Adam Rutherford
Adam is a science presenter and writer. He hosts Radio 4's flagship science show, Inside Science, and wrote Creation, a book about genetics, and the origin and future of life.
Helen Arney
Helen, "comedian, presenter, songwriter and geek", is an award-winning entertainer with a physics background, and one third of science comedy phenomenon Festival of the Spoken Nerd.
Simon Singh
Simon is an award-winning, author, journalist and TV producer, specialising in science and mathematics and with a special interest in cryptography. He's also the founder of the Good Thinking Society.
Uta Frith FRS
Uta, a professor of developmental psychology, has written and presented TV programmes about research in this area. One of Britain's foremost scientists, she has pioneered much of the current research in autism and dyslexia.
Mark Miodownik
Mark is a professor of mechanical engineering, and a broadcaster and author of the award-winning Stuff Matters . He specialises in materials science, metallurgy and biomechanics, and has delivered the Royal Institution's Christmas Lectures.
Lucie Green
Lucie is a professor of physics who studies the Sun, and talks about space science on Horizon and Stargazing Live.
James Wilsdon
James is a professor of science and democracy whose interests include science and technology policy and the use of evidence in policymaking. He contributes to the regular Science Policy blog at the Guardian.
Sue Duncombe
Sue is a volunteer Cancer Campaigns' Ambassador for Cancer Research UK, who is vocal about the role that science plays in helping patients and their families.
Greg Foot
Greg is a science presenter live, on TV and online. He is a regular on YouTube science channel BritLab, and is also Blue Peter's resident science guy.
Julian Huppert
Julian is lecturer in evidence-based science and technology policy, and former MP for Cambridge, as well as a former research group leader studying DNA structure.
Naomi Weir
Naomi has a biological sciences and policy background, and is Acting Director for the Campaign for Science and Engineering, the UK's leading independent scientific advocacy group.